5-Song EP: "Thoughts & Prayers"
Recorded Earth Day 2019, Released summer 2019, Reviewed by Eric Saeger, Hippo Magazine, Nashua, NH, Halloween edition, 10-31-19, p. 38: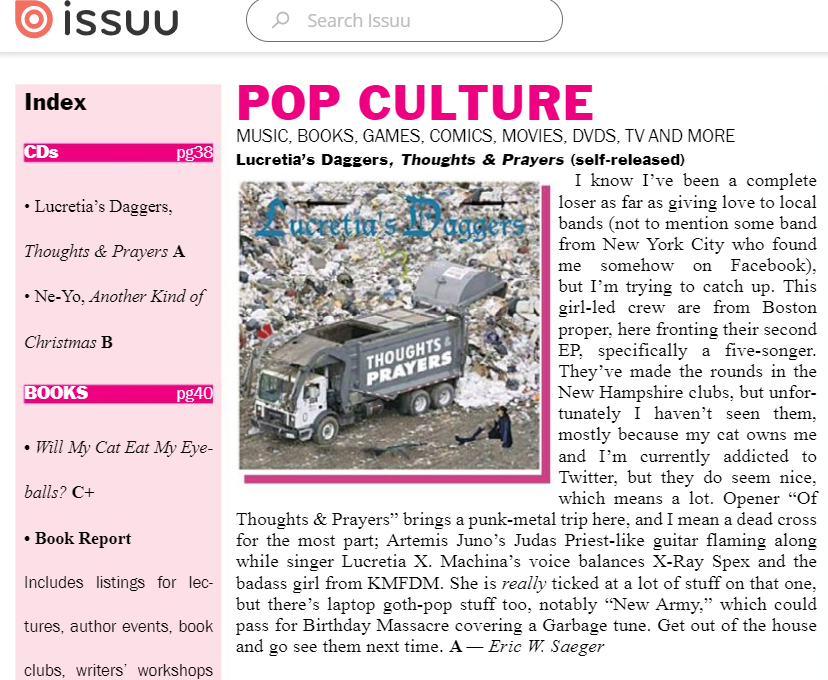 14 Song CD: Sky So Grey Boston dark music compilation - LD single "Tragedy"

Livejournal of Mick Mercer, LUCRETIA'S DAGGERS, Single: "Tragedy" from Sky So Grey - Boston Dark Music compilation, Decorative Records, March 2, 2009 - Mick Mercer
You don't really see compilations that much these days when a few years back they were plentiful, and yet they remain a fantastic way of encountering new talent, on top of which they can be a benevolent guide to a geographical region, as this one is. This is high calibre too, so have a look...."Lucretia's Daggers are superb in the tricksy traipsing of 'Tragedy', like a sticky, fidgeting stream of sounds rolling off a giant salamander's tongue and amid the skill it's a jolt to realise the lyrical point when it stabs you."See the full review here

Spare Change/What's Up, p. 8, March 12-25, 2009 - Kier Byrnes
In addition to the well documented lineage of ska, punk, and folk exports, Boston has long been a haven for many kinds of underground and experimental music scenes. Sky So Grey - A Boston Dark Music compilation is a snapshot into the city's local gothic, industrial, synth-pop, ethereal, and shoegaze scenes in the 90's. The music is introspective, spiritual, a lit bit mischievous and at times even somewhat ominous; hence the "dark" music title. My favorite tracks are the ethereal "Viktagragh" by Walter Sickert & The Army of Broken Toys, the hauntingly melodic "Tragedy" by Lucretia's Daggers and the cold, stormy and aptly timed instrumental composition, "February" by Sharon Crumrine, however, from start to finish this is a great collection of songs.

--------------------------------------------------------------------------------------------------------------------------------------
 
12 Song CD: Sad Flower Songs

Livejournal of Mick Mercer, LUCRETIA'S DAGGERS, SAD FLOWER SONGS, Pretty Poison Productions, September 6, 2008 - Mick Mercer
An intriguing and refreshing hybrid, Lucretia's Daggers were first sharpened in 2001, and yet this 2006 debut remains their main release. With a few band members fallen away over the years the mainstay is vocalist [. ] who feels it pertinent to operate under the guise of Lucretia X. Machina, with the Goth heart softening the threshing Industrial elements until the rousing power surges through tight melodic passageways. A bit rocky, a bit sleazy, but also endearingly witty or warmly sing-along.

'Scapegoat' is all of those things, with some very cool guitar pulling the vocals towards a central dungeon of doom, but the chorus floats away from danger. .Drawn & Quartered. nudges their claims of electronica along, as the rhythm clip-clops behind mesmerizing guitar and historical vocals marshaling clever lyrics. Think of a collision between Ego Likeness and The Groaning? That fits, and it feels superb. "Lost Lovers" lopes along with a cheeky punk nonchalance and [Lucretia] not only sounds uncommonly like Kirsty MacColl, but as good, the guitar sweet searing, the effect lilting and lethal.

"Closed Caskets for the Living Impaired," broadcast live on KUCI 88.9FM in Irvine, CA - LD's song, "Fallen Moon", chosen #1 for The Best of 2006.

Online Blog Lemurvision,  "Music," Review of Lucretia's Daggers - Sad Flower Songs, **** (4 stars) September 2006 - Maneating Lemur/Jim Orrill
Lucretia's Daggers is one of the best bands you've probably never heard of and this release absolutely kicks; there's not a stinker on it. Here's the track by track breakdown:



1. Scapegoat - A bludgeoning track that's rife with melody. Lucretia X. Machina sings with grit and passion while Darrell Brown and Futurist Tarquinius prove quite adept with crunching rhythms and stinging leads. Gets the album off to a strong start.



2. Drawn and Quartered - We get more wrenching lyrical content but that doesn't keep this tune from being a kickass rocker. Stephanie LaMassa's keyboards straddle the line between techno and industrial and complement the punishing riffs beautifully.



3. Lost Lovers - Once again we get great heavy rock combined with memorable hooks. Machina has a gift for shifting from seductive to gritty as the song requires and the whole band performs as a crack unit.



4. Fallen Moon - This one comes off as hard-rocking cabaret music and anyone who invokes the Goddess in a catchy song is cool in this Wiccan Lemur's book. Even if you're not a Pagan, you'll find a lot to dig here.



5. End of Oil - Martial riffs propel this environmental song and it's a good one. In a contemporary sonic landscape of nu-metal cock rock lyrical dreck, a song like this is a welcome relief.



6. The Sickness - Not, thankfully, a cover of Disturbed. No, this one sounds more like a rebirth of The Tubeway Army. It's a really cool track so the band's shift in gears isn't the least bit jarring and Stephanie LaMassa gets to really cut loose with delightful results.



7. Eb & Flo - Another memorable, rocking track. The chorus from this one is virtually guaranteed to get stuck in your head.



8. The Horrors of Retail - A surreal track about, surprisingly, the horrors of retail. As a former Phar-Mor employee, this song articulated my descent into the utter hatred of our customers perfectly. Past and present wage slaves will love it. Just don't ask me about the creepy motherfucker who asked me if Tylenol came in a suppository.



9. Souler Coaster - Chugging, driving monster with especially good work from Machina; her soaring background vocals are just fucking gorgeous.



10. Sucker/Savior - A really sweet mesh of synth-pop and heavy rock; it's a combination that sounds like it has no business working, but it does, and does beautifully. Extra points for unbridled lyrical vitriol.



11. Dust - Lucretia's Daggers shifts gears once again for a drop-dead gorgeous baroque pop song. Machina kinda sounds like she's channelling Andy Partridge on this one.



12. Sacrifice - They save the heaviest beast for the finale. It's crunching and ominous adorned with lilting synths and again, they make an unusual juxtaposition work really well.
Check out the band at www.myspace.com/lucretiasdaggers -- you can listen to a few tracks from the album there and then feel free to give in to your better judgment and buy the cd.  


Metronome, Billerica, MA, "Hearings," Review of Lucretia's Daggers - Sad Flower Songs p. 7, September 2006
"Singer-songwriter [Lucretia X. Machina] is the knife wielding architect behind the band Lucretia's Daggers. She along with programmer-bassist Darrell Brown, keyboardist Stephanie LaMassa and guitarist Steve Arsenault kindle darkly textured songs tainted by a gothic, progressive feel that are both personal in nature as well as general observations of what Machina may encounter in her world. Her lyrics are deep and thought provoking and unearth everything from poisons, to the end of fossil fuels, to the drudgery of retail. It's safe to say Machina has lived these songs first hand and has plenty to say about it. If you like your music with an ominous edge, you'll love the stick of Lucretia's Daggers."  

Northeast Performer, Somerville, MA, "ReviewsRecorded," p. 60, September 2006 - Brian McGrath Lucretia's Daggers — Sad Flower Songs, Engineered, recorded, and mixed by Scott Matalon at Music Lane Studios
Presenting an updated mythology of the rape of Lucretia by Sextus Tarquinius, [...] and Steve Arsenault adopt the characters of Lucretia X. Machina and Futurist Tarquinius to become Lucretia's Daggers. Sad Flower Songs, Daggers' first full-length album, is a collection of fairly standard dark, brooding Goth fare. And though the band's music may not be as original as its fantastical characters, the album is still very enjoyable.

The tunes are composed mostly of heavily programmed tracks, a la Nine Inch Nails, along with some crunchy guitar, bass work and keyboard highlights. [Mac's vocals are generally wry and attitude-infused, invoking another "character singer," Lady Galore of the Lords of Acid. There are some instances of pitch problems, but overall the vocals are very appropriate for the musical style.

In keeping with the Goth tradition, the bulk of the lyrical material is dark, dealing with topics ranging from a spurned lover to the end of the world. The music, while contributing to the ominous undertone, also retains plenty of energy, edging towards an industrial feel at times, and presenting some memorable hooks as well. The result is an interesting dichotomy between the lyrical melancholy of Sad Flower Songs and the often upbeat, danceable rhythm and instrumental work.

There are also a few instances of striking contrast to the prevailing formula; "Lost Lovers" features a much lighter, floating vocal quality that works well with the hectically paced  instrumentals. The last track [sic], "Dust," is much more relaxed than the rest of the tracks, sounding strikingly like a standard pop ballad, though it is one of the best songs on the album. 

Lucretia's Daggers does run the risk of being cliché; it is important to remember that there is some aspect of irony in what the band does. In case the audience forgets or fails to realize, Daggers provides an obvious hint with "The Horrors of Retail." Keeping this in mind, the lack of originality is not entirely lamentable, and overall, Sad Flower Songs is a fun and highly enjoyable album. 

Online Blog: "Sad Flower Songs may cheer you...", Lucretia's Daggers - Sad Flower Songs - July 12, 2006 - Paul Keyes, TX
Sad Flower Songs arrived Monday, and it's been in the player ever since. Great work! The title reminds me of Baudelaire's Les Fleurs Du Mal. I was listening to "Lost Lovers" and it struck me again who [Lucretia X. Machina's] voice reminds me of. Back in 1984, when I was first 'groved', the pagan community was passing around Steeleye Span albums. Her voice really reminds me of their lead singer. I don't know what ever became of them but I did notice that the Medieval Baebes covered some of the same songs Steeleye Span had done. As to "Lost Lovers", yes, haven't we all had a happy evil angel to contend with? [Lucretia's Daggers'] songs work because [Lucretia] is a great storyteller. Anyway, I love the album and it has only served to make me wait eagerly for [the band's] next project. I am looking forward to seeing what guitarist Futurist Tarquinius comes up with musically. Until then, take care.

The Noise Magazine, Boston, MA, "Silver Circle Reviews," Review of Lucretia's Daggers Sad Flower Songs, p. 33-34, April 2006 - Leah Callahan
Pagan party girl, avowed liberal and environmentalist, ManRay scenester and probably one of the most supportive female concert-goers the local scene will ever have, singer/songwriter [Lucretia X. Machina] has taken all of her influences - from her love of industrial and dark-wave music to her anger about corporate exploitation and soured relationships - and created Lucretia's Daggers' first release Sad Flower Songs. On "Lost Lovers" she expresses her pain over a failed relationship very honestly and artfully, her voice sounds goddess-like and there is very little pretense. I have seen her live shows and was used to a harsher, angrier style; upon hearing this song I have to say it's the standout on the CD for me and would love her to do more like it! "Fallen Moon" is another song where she uses her voice to its fullest potential, with gorgeous melancholy harmonies and a catchy chorus. Versatile guitarist Steve Arsenault is a great foil for the band's genre jumping, from experimental electronica to metal, showing influences ranging from Brian Eno to Voivod. [Lucretia] sites Fiona Apple and the Dresden Dolls as influences and her passionate vocals take a cue from those artists' intimately confessional styles.

Steve Eaton, Lucretia's Daggers - Sad Flower Songs - March 29, 2006 - Steve Eaton, MA
It's finally here! The full length debut disk from the Massachusetts band Lucretia's Daggers is called Sad Flower Songs. Each song is a petal on a magnificent flower, but I would argue that some of these flowers are not necessarily sad. They are often in your face commentaries which cover a variety of topics. The leadoff track, "Scapegoat", is a perfect example. On this cut, [Lucretia's] vocals are melodic yet gritty as she narrates through a tightly constructed wall of rumbling guitars, buzzing synthesizers and pounding electronic beats. Lucretia's lyrics leave no room for uncertainty when the narrator informs her former "sad and silly sweet little man" lover that he can no longer pollute her flowerbed. The harsh elements of this song are balanced by multilayered vocal melodies. "Scapegoat" is a bold undertaking for a pop artist because its lyrical style is busy and complex. It is a testament to the prowess of Lucretia's Daggers that they are able to pull this track off.

When this track ends the adventure continues as the band explores a variety of musical and lyrical styles without deviating from the band's signature sound. After tearing through an energetic version of the band's concert staple "Drawn and Quartered" Lucretia's Daggers slows down for "Lost Lovers". The lyrics to this song are intricate, clever and filled with longing but the song is straight forward pop brilliance. "Fallen Moon" has equally impressive pop sensibilities in addition to edgy guitar riffing and distinct analog synthesizer layers. It's indisputably one of LD's finest cuts to date. "The End of Oil" shows that Lucretia and company have a political conscience, while "Sucker/Savior' is clearly here for the contingent of LD fans who enjoy their music with a touch of industrial.

If there is any justice in this world then "The Horrors of Retail" will be heard by a large audience. In some ways it's a novelty track, yet I expect it will touch a familiar chord in the hearts of many listeners who dwell in the dreaded realm known as retail. Lucretia vocalizes frustrations many people in this profession feel when they interact with customers who are never wrong. Although Lucretia's intonation is filled with bitterness, her humorous lyrics prove that she is not taking herself too seriously here, even if her message is both serious and sincere. The keyboards on this track are particularly playful and cinematic.

In short, Sad Flower Songs is the work of a smart, dark, and talented band. I suggest you pick up your copy today. Visit www.lucretiasdaggers.com. Tell them Steve sent you.

--------------------------------------------------------------------------------------------------------------------------------------

CD Reviews:

5 Song Demo - Lucretia's Daggers

From Dust: Dark Art and Music Journal, #5, Northampton, MA, Lucretia's Daggers DCR Review, p. 34, Summer/Autumn 2004 - e. David
This disc is a 5 song demo of rough-around-the-edges goth rock from Massachusetts-based 4-piece Lucretia's Daggers. The music is competent, if not breathtakingly original, sounding as if the band is just beginning to find their voice. The female vocals (courtesy of [Lucretia X. Machina]) remind me just slightly of early Shroud material, and while the recording is raw, it is enough to show potential in the material, and hint that the live experience might be a worthwhile one. It will be interesting to see how Lucretia's Daggers develops....

The Noise Magazine, Boston, MA, Lucretia's Daggers CDR Review, p.20, April 2004 - (Z)
Let me begin by saying that despite its several flaws, I truly enjoyed this disc and believe that with a few modifications this band can be a great addition to the Boston goth scene. Although the band says they wish to move towards a more industrial sound, I would urge them not to. Their underproduced guitar tones, synths, and simple drum machine patterns give them a retro '80s sound which sets them apart from the other goth bands around now. Going industrial would just make them sound generic. The vocals suffer a bit in the first three songs, mostly for two reasons: the vocalist has some difficulty staying in pitch, and often the lyrics try too hard to be poetic and/or eloquent. Because of this, the singer often sounds as though she is rushing to fit in too many syllables into each phrase. On "Eb & Flo" and "Souler Coaster" she slows down, and the songs work much better. Furthermore, if Lucretia's Daggers would prefer to stand out from the other goth bands, how about getting rid of the black leather/fishnets and photos in the cemetery? How about a goth band that dresses all in white? That would be truly creepy. Still, this release is a great start.

Online Blog: "Not Just for Contessas Anymore," Lucretia's Daggers MySpace, 4 songs ("Scapegoat," "Drawn & Quartered," "The Sickness," "Dust"), July 6, 2006 - Paul Keyes, TX
Wow... Stumbled across this band, Lucretia's Daggers on MySpace completely by accident and have to say I am impressed. Finally a voice in this genre that is fearless and unintimidated by either the music or the lyrical content. Strong enough it seems to stand on it's own without the usual compression tricks and other studio nonsense. I would even go so far as to make comparisons to a very young Grace Slick (back when Grace could still sing and instill fear in the media). Yeah, this vocalist is all that. Combined with lyrics whose poetry seems to embrace irony as more than a lifestyle, I haven't heard an artist this honest since Frida Kahlo (that is, if you'll allow me to compare music to painting.) Lucretia's Daggers definitely belongs in heavy rotation on anyone's play list. That is if it doesn't embarrass the rest of the stuff off your I-pod.

Space Junkies Magazine anniversary issue, Lucretia's Daggers MySpace, 4 songs ("Scapegoat," "Drawn & Quartered," "The Sickness," "Dust"), 7/1/06 - 7/31/06 - David J. Patterson
When a band is named after the suicide weapon of choice for a woman in ancient Rome, you kind of get an idea of where it's headed. Comprised of vocalist Lucretia X. Machina and guitarist/sequencer/bassist Futurist Tarquinius, Lucretia's Daggers specializes in dark, industrial and goth tinged rock that could be heard pumping out of many a club in the early 90s. "Scapegoat" and "Drawn and Quartered" are decent industrial dance tunes, but when things slow down, Lucretia's Daggers runs into a bit a trouble. "The Sickness" suffers from doinky keys and a scattered, instrumental break that confuses the whole mood. Their second torch burner, "Dust," fares a little better with improved key tones and spotlights some great vocal turns by Ms. Machina. Fans of industrial and goth should take note. Just keep your expectations realistic; these daggers are not as lethal as Nine Inch Nails.
 
---
 
Live Performance Reviews

Gulu-Gulu Cafe, Salem, MA - Prospero Eaton (November 2, 2013)
[It] was mildly festive outside of Gulu-Gulu Café. Slightly inebriated post Samhain celebrations were happening in nearby bars. Scatterings of costumed people walked the streets, though not en masse like on Samhain/Halloween. This Saturday night, Salem felt like an echo of a party. Perhaps the masses were all partied out. After all, Samhain was preceded by the victory of some Boston sports team.
 
Inside Gulu-Gulu, the festivities were far from slight. Boston underground legends Lucretia's Daggers played an extended set, but not before a performance from another legend, the horror punk band Sans Nomenclature. This time around, Sans Nomenclature played a set unlike any they had played previously. The full band was not on stage. Instead, vocalist Anderson Mar and guitarist Jason Skulls performed their first "unplugged" performance. In this setting, the sometimes confrontational, always powerful vocal stylings of Anderson resonated in their clarity. Anderson's more personal vocals, particularly on "Get off the Dole" were downright chilling. The expert "unplugged" guitar playing of Jason Skulls, ordinarily colored by guitar effects, truly matched this setting.
…
Lucretia's Daggers came on after a brief intermission. From the moment they hit the stage with "Scapegoat", the audience was mesmerized. As always, Lucretia X Machina's stage presence was energetic. The set consisted of a combination of songs from their darkwave masterpiece CD, Sad Flower Songs, as well as songs written after that disk was made nearly a decade ago. The old songs were given greater depth by this current and definitive lineup. This depth is perhaps most notable on the new version of "Drawn and Quartered", which ends with an extended jam featuring Middle Eastern style drumming from Franssen Haas, throbbing bass playing from Donni Darko, and fierce lead guitar licks by Aza'zel.
 
Their brand new song "Public Transit" is the second part of the "snarkalypse" started by "The Horrors of Retail". "Public Transit" features megaphone calls and a steel drum performed by keyboard extraordinaire Zenobia Veritas. This song ends suddenly and dramatically. It's a masterpiece in capturing the mood of a subway ride! Another highlight of this set was the rarely performed dark epic "Sacrifice." For this song, Jason Skulls provided a second guitar. Lucretia's vocals are lower than usual when performing "Sacrifice", which allows her to tap into a distinct vocal personality, one this reviewer would be delighted to hear explored further. Her stage presence when performing with this voice feels reminiscent of Ozzy Osbourne when he is not campy.
 
Lucretia's Daggers are planning to reenter the studio with the current (and hopefully longstanding) lineup. …


Gulu-Gulu Cafe, Salem, MA - Dan Kupka (November 3, 2013)
Great time had with Lucretia's Daggers and Anderson's Sans Nomenclature last night.....[I] really enjoyed LD's current lineup, with a very rocking, high energy stage presence, with my personal favorite danceable, 'Sucker/Savior' and other songs from the LD album 'Sad Flower Songs' being given a more electric, full-band-lineup treatment, putting a different (good!) twist on the band that promises 'dark lyrical electro-rock for the apocalypse'. 

Thanks for the music, guys!


Online Blog: Lucretia's Daggers at Max's Hideaway (July 1, 2007) - Steve Eaton
The past couple of years has been filled with highs and lows for Lucretia's Daggers. Shortly after release of their 2006 debut disk, Sad Flower Songs, all but one member left the band. Only lead singer and songwriter Lucretia X. Machina remained to promote this ground breaking CD. For a brief period she worked alongside guitarist/programmer extraordinaire Futurist Tarquinius, but an injury got in the way. Filled with determination for her music to be heard, Lucretia soldiered on, recruiting a new set of musicians to help realize her dark and confessional compositions.

The first public performance of this incarnation of Lucretia's Daggers just happened to take place at the opening of a brand new Boston area fetish night at a venue called Max's Hideaway (July 1, 2007). Turnout was disappointing, to say the least. The soundperson was clearly unfamiliar with the band's sound, as new (and now departing) bassist iodine's bass threatened to overpower just about everyone else on stage. Keyboardist/laptop specialist DrDK couldn't be heard for the first five or six songs. At times, Elucid's guitar was also buried in the mix. Thankfully, Lucretia and backup vocalist Ms. Spyglass were more than audible.

I was positively enraptured by DrDK's musical abilities whenever I heard them. He added a newfound cinematic depth to the already spectacular "Fallen Moon". Elucid struggled with a few songs but positively shredded during "The Horrors of Retail", "Tragedy", and set closer "Lost Lovers". Unfortunately, iodine's decision to play Led Zeppelin bass riffs between songs served as a distraction and made the performance feel like a rehearsal at times. Sure, the guy has chops, but he was clearly unfocused. A Lucretia's Daggers show is not a place for tribute band antics.

Thankfully, Lucretia's incredible stage presence and passionate performance managed to compensate for any and all obstacles. Without her leadership and attitude this performance would've been a disaster. She somehow managed to turn a potential collapse into an undeniable success.

I'm extremely interested in hearing new material from this new version of Lucretia's Daggers. DrDK has the potential to help transform the band into one whose sound will work in a gothic dance club setting. He and Elucid could be provide precisely the spark Lucretia's Daggers needs to reach their next level. I look forward to hearing this lineup perform "Tragedy" on an upcoming compilation of Boston area gothic bands.

MySpace Comment "Skybar Farewell Funeral", Skybar, Somerville, MA (July 15, 2007):
"Hey thanks for not kickng my ass. Your performance was reminiscent of classic old school goth, before it even had a name, before the Cure was on the radio, back in the early Sousie and the Banshees days. It took me back to high school for a moment. 'Why can't I be you?' she said...." - CrowfeatheR

Online Blog: Mass. Morgue at The Skybar, Somerville, MA, October 29, 2006, third annual local Halloween band/art/performance event -- Steve Eaton
The weekend preceding Halloween ended in style. On Sunday I went to check out the Mass. Morgue festival at Sky Bar in Somerville. During this night I had the pleasure of witnessing two of Boston's greatest bands, namely Lucretia's Daggers and Walter Sickert and the Army of Broken Toys. Needless to say, both acts blew me away.

Army of Broken Toys went on first. Their stage was decorated with a wide assortment of toys and other objects, including an old record player (which was silently spinning. The band opened up with a spectacular rendition of "This is Halloween" from Tim Burton's The Nightmare Before Christmas. As Walter hissed and whispered the song's famous passages his bandmate Edrie (formerly a broken toy) played with the toys on the stage while moving seductively in time with the haunting music. Not surprisingly, many eyes were on Edrie because her appearance is reminiscent of the sensual icon Betty Page.

The set included several songs from their debut. During "The Long Wait" Edrie joined Walter for a deeply emotional vocal performance which almost brought me to tears. Both Walter and Edrie have suffered losses on a scale similar to my own. I felt as if they were reaching out to me with this performance. Together, their voices make for a dark and enchanting harmony. The live version of "Sacrilege" (one of their disk's best tracks) was spellbinding.

Lucretia's Daggers was the fourth act to perform. The last time I saw them live Lucretia had three bandmates. Now she collaborates exclusively with guitarist Futurist Tarquinius. Futurist had a tough act to follow when he joined Lucretia's Daggers, but has unquestionably surpassed all expectations. He reinterprets the songs from their debut CD, Sad Flower Songs, while remaining faithful to the recorded versions. His style is "heavier" than that of his predecessor, Darrell Brown.

I turned several shades of red when Lucretia dedicated "The Horrors of Retail" to "Steve Eaton of the silver cape". Needless to say, their performance of this song was superior. I will weep if they ever remove it from their set list. Another highlight was "Sacrifice". During this song Lucretia's bone chilling vocals were brilliantly complemented by Futurist's thunderous guitar riffs. The band introduced two new cuts, both of which were wonderfully executed. Other set highlights included "Fallen Moon", "The End of Oil" and "Lost Lovers".

There was more to Mass. Morgue than these two acts. I was introduced to the hypnotic and highly experimental music of a duo known as Dreamchild. Their performance was theatrical and lyrical. Ultra Plush went through a particularly energetic set. Throughout the night beautiful gothic people wandered the room. There was even a belly dancer between some sets. Unfortunately, I did not stay around to witness the fifth band because it was a work night. As it is, I did not get back until after 1AM.

Online Blog: Mass. Morgue at The Skybar, Somerville, MA, October 29, 2006, third annual local Halloween band/art/performance event -- Tom Calo / Tas / Kaiser Ape
That was a phenomenal show last night.

Walter Sickert and Edrie are just a joy to watch and hear. I expected Walter to "Walk On Gilded Splinters", so much did he resemble Dr. John. The feathered headress he wore was a hoot. Edrie is his perfect complement. I'm sure the other photographers got it, but I actually of retreating briefly to the bar. Isn't she like one of those white peaches my teenage rocker son loves so much? A ripe peach.

I accosted Ultra Plush's pretty little bass player after their set and asked her if they'd been rehearsing a lot since I saw them last. She said they had. Then the drummer walked up, so I asked him, too. Same answer. The reason I asked was that this band has gotten so tight in such a short time that they deserve a huge tip of the hat. The rhythm section, especially, was cooking. Eric David Love deserves a perfect band to surround him, and now he has it. The backup vocals of their guitaris/vocalist were lovely. This is a good-looking band, too, so they have it all, in my opinion.

Dreamchild, once again, were beyond this hack writer's ability to verbalize. It's gotten to the point where, as soon as I hear the opening chords of their "Ave Maria", away goes the camera. I can't get enough of them performing this masterpiece.

I was absolutely bowled over by the current incarnation of Lucretia's Daggers. I kept saying to myself "this is really all Lucretia needs." Her guitar player, Futurist, is a monster, and with the drum machine, they fill the room, plus it's such a polished performance by Lucretia from beginning to end that I was feeling happy for that little imp. What an amazing stage presence she has! Lucretia started the set wearing her trademark blue hat, but eventually it came off, revealing a mane of hair that only went to increase her overall magnetism. I'd love to see the video of this show, as she is the most energetic and bouncy unit I've seen yet, and my poor amateur still photos are no match for such a physical performer. Her vocals have increased in strength and confidence since I last saw her live in 2004. Wow.

On the way home, I mentioned to Joanne and Screeg how I can't get over how excellent all Anderson Mar shows are. I realize that Mass. Morgue is a Lucretia production annually, but, once again, every act is excellent.

I asked Screeg if there are any clunkers anywhere nowadays (Screeg and I have been co-conspirators on the music scene since 1970.) He said yes, he's seen shows with very raw acts, as recently as weeks ago. Our little band of fans drove away in agreement that we've been enjoying a streak of sensational shows for quite awhile, now. I salute Anderson and Lucretia.

Emergenza Competition: Round One, Middle East Upstairs, Cambridge, MA, Online Blog: An Awe Inspiring Performance March 18, 2005 - Steve Eaton
On Friday night I finally had the opportunity to witness my friend [Lucretia] and her band Lucretia's Daggers perform upstairs at the Middle East in Cambridge, MA. They were one of seven acts to participate in the latest round of Emergenza, a festival/contest showcasing up and coming bands. Not surprisingly, Lucretia's Daggers was one of the three music groups to earn the most audience votes, which means they will advance to the competition's next round. Sometime in the near future they will appear at The Paradise Rock Club in Boston for phase two of the contest.

Lucretia's Daggers was the final band of the evening to perform. Moments before the band took to the stage, there was a distinct hum of excitement within the audience, many of whom came specifically to witness the energetic front-woman and her talented musical comrades. When the overhead lights dimmed, streaks of red and blue fell upon the quartet. The drum machine spit forth a steady series of beats as [Lucretia] emerged from shadows with microphone in hand to sing the opening lines of "Sucker/Savior". Her voice was unwavering as the band swelled and erupted. For the next twenty-five or so minutes the crowd was treated to a gothic feast of sound. [Lucretia's] voice was darkly sensual as it filled the room with the lucid melodies of "Fallen Moon" and "Souler Coaster". While her tones never stray far from the sublime, she clearly is capable of expressing bitterness, particularly in "Horrors of Retail" and "Sucker/Savior". The former, which [Lucretia] dedicated to anyone who ever had the displeasure of working in retail, was a particular treat. The song's narrator speaks from the point of view of a retail employee who is called "hey" by customers. Since I spent a number of years in the demeaning level of purgatory known as retail, the song struck a chord with me. I would be surprised if audience members in similar situations did not consider it a highlight of the performance. This track is definitely a keeper.

While [Lucretia] is clearly in the driver's seat of Lucretia's Daggers as its architect and songwriter, the band is far greater than a collection of back up players, as was evident from their noteworthy performances. The gritty rhythm guitar of Darrell Brown contrasted with the lush backdrop of sounds emanating from Stephanie's synthesizer. These two instruments combined to build a level of tension that was bridged by the bass playing of Tony Puleo. Darrell's guitar playing was multilayered; his melodic guitar breaks contrasted with his chugging rhythm work. Stephanie used the broad expressive range of her instrument to put forth a varied series of sounds that enhanced the songs with additional layers. There was an undeniable chemistry between the band members, which was impressive because Friday was Tony's live debut. Unfortunately, the sound quality was occasionally hindered by an inadequate mix. At various points the vocals, synthesizer, and bass were buried. Of course, the sound board people at The Middle East had a difficult challenge since they were working with bands playing distinctly different styles of music. Regardless, the unevenness of the sound quality was more than compensated by the energetic output of all four members, each of whom had a strong stage presence and adorned distinctive gothic attire.

Lucretia's Daggers is maturing. While the songwriting was superb on their homemade disks, there were a few holes in the material's execution. The Middle East show demonstrates a band that has refined and crafted its sound considerably over the past year. Lucretia's Daggers is at an exciting phase of its development. It seems obvious that [Lucretia] has lived and breathed these songs for a while now. At last, she has a band capable of realizing her ideas. Lucretia's Daggers is currently recording its professional debut, Sad Flower Songs, with producer Scott Matalon, who is also the front man for the local sensation Daisycutter. I expect great things from Lucretia's Daggers in the future. Since I will be moving to Portland, Oregon this summer, I will have to expose these powerful songs to my new friends on the west coast. Hopefully [Lucretia] and company will find a way to perform across the country.
Nice job, Lucretia's Daggers.

Fan Feedback

To submit your comments, etc. for consideration, please email us at lucretiasdaggers@rcn.com and include your name as you would like it to appear. Thanks for reading and contributing!
 
---

What fans say of LD's Videos:

"The Horrors of Retail"

On ReverbNation:
10/18/09 - "I just wanted to say THANK YOU for "The Horrors of Retail," which is my life summed up in the perfect song. I've been a retail manager for 10 years, in an industry that is not typically welcome to freaks, which is why my company stuck me in Harvard Square, I think. I've been posting it on my Facebook, for all the other slaves, and everyone is loving it. If one more trendy, preppy type that comes in my store and tells me to smile I may scream." - Nighthawk, on Reverb Nation

On YouTube:
10/7/09 - "Excellent. I love the "Clint Eastwood" cameo appearance. Great to see a local band doing something of substance...." - beelzabubba
10/6/09 - "Wow, this is amazing!" - CallingAllMusicians
10/5/09 - "Congrats you the video. Bummed we couldn't be a part of it." - Jeff & Kim "Boston Garage Bands"
9/30/09 - "HEY! Cool video... I'm so amused with everything you do :D. Heh, I love that Laibach's "geburt einer nation" video is the 5th most related video to your video, too! Classic!" - Paul Aho, Streak
9/24/09 - "Fuckin Quality, nice one." - GERKMAN2003
9/23/09 - "i think i just found my new theme song myself i do work in retail and all i can say that its true" - gthpgn

Via Email:
12/29/09 - "Hey, I just watched your video...I liked it!  Working in retail does suck....Good job!" - Anne Marie Murphy, Lucretia's cousin
10/7/09 - "BRAVO! Quite fun to see visuals of this song." - Tanya Rose
10/6/09 - "The video is awesome. Nice job!" - Geoff Valentine, Guitarist
10/6/09 - "I LOVE the video!!! *hugs*" -Rachel Drucker, Melt
10/6/09 - "Excellent! ...Uh-oh, wait, that's me you're talking about. Congrats!" - Naomi Rubin
10/6/09 - "Just watched the video and I think it is fantastic! Glad to see the band is doing well! Best." - Andy Berlet, former LD guitarist
10/6/09 - "GREAT F'ING VIDEO!!!" - Kier Byrnes, Three Day Threshold
10/6/09 - "hey, love da vid. u guys look great on film. can't wait 4 da next 1" - Al, Happy the Clown

What fans say of LD's Videos:

(Sisters of Mercy cover) "Lucretia, My Reflection"

On YouTube:
2/1/09 - "Your voice is very well suited for a cover of this song. I think you guys did an excellent job of performing it. If you guys release another album you should definitely include a polished version of this cover. Your band is proof that Goth is not dead." - 2ltdab
 
---

What Fans say of LD Songs Online

On Fame Games/Meer Music:
2/2/2009: "Lost Lovers"
"This one has a specific listener, not for everyone, but interesting. I liked the power build at the back end and the vocals are clean. This song puts me in mind of the Cranberries. Well done!" - studioboss, USA

12/19/2008: "Lost Lovers"
"This is different sounding, wether alot of people will get this, im not sure. But for what it is, its good. Well sung and put together" - HonestAngel, United Kingdom

10/11/2008: "Dust"
"Melodically and vocally, this reminds me of the Sneaker Pimps a little. Similar vulnerable vocal, the flaws in which contain the charm of the performance, which hold you in the song. The arrangement could probably benefit from more organic elements - especially in the drum and bass department to lift it, and offer it more dynamics. Overall though, for me, it's the vocal that gets it, with all of its perfect little imperfections." - Ken Morrison, Scotland

10/09/2008: "Dust"
"Actually this is right about there...production is better on this one. And it'´s very hard to pull off a slow song like this. There are a few slight places vocally, but it works with the genre. Vocals are rich and deep in the opening...very good. This is a very good song, with loads of potential. Apparently not everyone is allowed to be able to find their true self through music and to translate it to their lyrics. I think you are doing very well at doing so." - Scarry Garcia, GA

10/09/2008: "Drawn and Quartered"
"This song is original for sure. Heartfelt performance. Nice eastern flavor about half way in. Drawn and Quartered is not a pleasant thing...a song about the pain of love perhaps...some reviewers just don'´t get it. Nice videos on youtube by the way. Pretty much Electro Goth Rock as I hear it. Production could use some bumping up (heavier),band timing could be tighter, but that is my opinion...which is meant to be constructive and helpful as I would want to receive." - Scarry Garcia, GA

10/07/2008: "The Horrors of Retail"
"Haha, i love the lyrics, this is what made it for me!! LOL, nice one, but not sure on the song as a whole, but the lyrics made me smile!" - Honest Angel, United Kingdom

---------------------------------------------------------------------------------------------------------------------------------------

What Fans say of LD Songs on MySpace:

12/20/08 - "Hi! saw your profile on gothscene and went to see more. . . love lyrics & music. . ." - Nina

9/7/08 - "Just finished listening to your MySpace: super generous dose of music. I really want to catch you all live. You have such a great voice and range of sound and bunch of musicality going on." - Anita Roy Dobbs

9/4/07 - "I think you guys are awesome. Reminds me of Siobhon Fahey from Shakespeare's Sister (and formally of Bananna Ramma). She's like one of my favorite female vocalists so rock on for having that edge!! Hope to see you play live again soon." - Frost, Eternal Embrace

8/28/07 - "Your music's fantastic. Love "End of Oil" and the "Horrors of Retail". Wish I had the brass. Wish you were in central Illinois. You're writing what I feel and can't put into words. Hope your career goes where it deserves to." - Michael, Hedstorm Productions

6/3/07 - "Your stuff sounds good, especially 'End of Oil', 'Fallen Moon', and 'The Horrors of Retail' - I can really relate to that one!" - Phineas MacDonald, former guitarist for Viracocha (US) and Suckwagon

6/18/07 - "been cranking da 4 new flowers songs at work. very kewl.... i think its da ballz." - Al, Happy the Clown

6/15/07 "I just stumbled on your page and ... I have to say----- your band is fantastic!!! 'Dust' is really beautiful and 'Horrors of Retail,' ...shooooooooo... SO TRUE , and anyone whos EVER done retail (myself unfortunately included) can LAUGH in hilarious relation..... your music and voice is great.... while listening to dust I was curious if you've ever heard of PATTY GRIFFIN?" - Ben McCoy, performance artist

5/29/07 "oooh i love your band!" i usually hate all the bands on myspace, but you guys are really interesting!!! this isnt an automated message or anything. but when i clicked add friedns on your page it took me to some myspace layout bullshit. i really want to be able and find you guys again to listen so could you send me an add friend request? man maybe we can play a show together one day. - miss amanda, Harlequin Jones
 
---

What fans say of LD's Performances

1/28/07:  "Heya Lucretia and FT. Just wanted to tell you how much you kicked last night [at Great Scott, Allston, MA]! The sound was awesome and you guys were really tight! Almost as tight and shiny as FTs pants (coveting pants)." - Sarah Edrie, Walter Sickert & the Army of Broken Toys

8/17/05:  "With vocals reminiscent of Susan Ann Sulley and Joanne Catheral of Human League, Lucretia's Daggers is the next logical progression of post punk experimental sound." - Jason MacDonald

4/4/05:  "This band has taken all the right cues from the masters of dark electronic music and are keeping the essence of the Goth tradition introspective AND [it's] danceable." - Brian Viglione, drummer, The Dresden Dolls

11/07/04:  "I think your song 'Lost Lovers' has some SERIOUS radio potential. You might want to think about pitching it to the majors." - Anderson Mar, Independent Boston-based Music Promoter

10/31/04:  "Every time I see them, they just keep on evolving. On stage Lucretia kicks serious gothic ass while the Daggers slink along like a mechanized creature. I think we have reason to fear this band." - Steve Robot: Guitarist/Programmer RobotZen

10/31/04:  "You're on the same wavelength as Kurt Weill with 'The Horrors of Retail'. 'Retail is so lame' has the sound of 'Surubaya Johnny,' 'The Black Freighter' or anything from Three Penny Opera. Great stuff!" - Dan of Mass. Morgue 2004

6/18/04:  "Do yourselves a great favor, see these guys if you get a chance. I must confess to being enchanted by the Fae Spirit of Miss Lucretia." - Yust Lundber

5/20/04:  "I just saw you all for the first time at the Sky Bar, and I especially liked the song about working in retail; that's some funny shit. Rock on." - Jay

5/18/04:  "Seeing them live recently, Lucretia's Daggers unexpectedly hit me with memories of listening to X-Ray Spex and the New York Dolls. Add keyboard to that mix and you have a very interesting hybrid of retro 70's glam punk, and 80's synth pop with 90's riot grrrl vocals." - Leah Callahan
 
---

What fans say of LD's CDs:

Sad Flower Songs (Full-Length) and Lucretia's Daggers (Demo)

6/22/09:  "It is now the sixth time I have listened to [Sad Flower Songs]. [Lucretia has] a wonderful voice, and I very much love all your lyrics, the music is perfect. I love the images, the music and [what the] lyrics express. 'Souler Coaster' reminded me of work." - Gordon Taylor, Infectious Unease Radio and Noir Corps, Australia

2/11/09:  "I really like your music. There's a lot of pain behind it, and your writing style reminds me of my own." - Jeff Royds, Boston Garage Bands online

1/28/09:  "Wow! I only made it up to song #6 of Sad Flower Songs so far, but, as Megadeth would say: so far, so good - well, as they would say without the 'so what'...haha. I LOVE [Lucretia's] voice!!! The way [she] goes from the very pronounced, deliberate, kickass sound in 'Scapegoat' to the sweet tone in 'Lost Lovers', to the very catchy, technotronic (is that shiite even a word? lol) somewhere between Human League and Gary Neuman sound in 'End of Oil' is AWESOME! And, what is that line in 'Drawn & Quartered' ....something about you said you would release me...let me out.... then you shout SIX YEARS! ROFLMAO - LOVE IT! Love it, and can't wait to see a show - I am sure with your stage presence added in, it only gets better!" - Mark Stevens, Reflexologist

10/9/08:  "I've been listening to your CD Sad Flower Songs ever since HalfHead's last show with us (Absynthe), and I must say it's grown on me quite a bit. It's quite frankly one of the best local CDs I've heard in a long time. You guys are great, and I can't wait to see you play again. My favorite is "Fallen Moon". At our last show, I passed out in the van, but I was happy to walk in to you playing "Fallen Moon". If you ever want a guest guitarist to play with you guys, I'd be honored. Your CD pwns. Keep doing what you do." - Mike E, guitarist for Absynthe

10/7/08:  "I am friends with the guitarist from Absynthe, Mike. He bought your CD Sad Flower Songs and gave it to me, and I love the whole CD. I make all my friends listen to it--they like it too." - Jayme Marzilli, Easybunny on MySpace, Warwick, RI

6/14/07:  "I liked the disc [Sad Flower Songs] a lot--very emotive and dramatic! Wishing you all best." - Brett Milano, Boston Phoenix Editor & author of Rock Around Town (about the Boston music scene)

5/9/07:  "I just finished your disc [Sad Flower Songs]. While it's all good, my faves are 5 through 12, meaning it really caught fire for me at "End of Oil" and just got hotter from there. Kudos for "The Horrors of Retail." Your dry humor made me laugh out loud in a few places. "Oil" is catchy enough to go national, I think. It's the best song Lena Lovitch never wrote! Congrats again." - Tim Mungenast, Tim Mungenast and his Pre-existing Conditions

3/12/06:  "Sad Flower Songs is your best yet. Far better than most Dark Ambient being produced right now. I can't stop singing or humming "Lost Lovers" over and over. The tech stuff is also vastly improved It's highly polished and professional. This one is a breakthrough. I'm so impressed. All Hail LD!!!!!!" - Gerry Fallon-Griffin, jewelry designer for Lucretia's Daggers

2/27/06:  "After more listening, the CD [Sad Flower Songs] gets better! The song "The Sickness" is one of my favorites! What a cool song... [Lucretia's] voice is fantastic and the lyrics are great. The CD is in heavy rotation in my player on the way to work." - Andrew Berlet, LD's initial guitarist

2/24/06:  "Musically, [Sad Flower Songs] is fascinating; a lot of delightful unexpected and interesting twists and turns in it. It doesn't sink into cliche' mode. I think whoever mixed it did a great job. It doesn't get boring, and it makes me want to listen to it again." - Lisa Alexander

5/28/05:  "My other guitarist Deb and I are sitting here listening to your clips [from Sad Flower Songs] and this is what she said: 'I like her stuff and this stuff is so marketable.' I agree." - Duane DeVein and Debra C, Coven of 13

11/26/04:  "'Fallen Moon' [from Sad Flower Songs] is a rare, wonderful, captivating song that you could just sit and take a bath in. 'Sacrifice' is scary and hypnotic. I like both ends of the spectrum." - Tony (qtbutt)

8/9/04:  "'Sucker/Savior' is awesome!" - Warren Lynch, Producer of Boston cult film, Pony Trouble (Boston cult film featuring "The Horrors of Retail" and "Dust" by Lucretia's Daggers)

5/15/04:  "I'm feeling 'Fallen Moon,' love the beat, and [Lucretia's] voice is awesome. I'm lovin' the intro to 'Eb and Flo' [her] voice rides out the song nicely. Love the lyrics to 'Sucker/Savior,' too." - Matt Foley

4/26/04:  "The lead singer of this band, [Lucretia], is a little mini-skirted, torn-stockinged Goth imp, and, big treat for me, her voice is reminiscent of one of my favorite all-time females Poly Styrene [of X-Ray Spex]. I went to their web site and read [Lucretia's] lyrics while I listened to this gem of a CD." - Tom/Tas/Kaiser Ape

10/14/03:  "I bought one of your CDs [Sad Flower Songs] at the RobotZen show last week. I wanted to tell you that it is really good. This may offend you, but I describe it as a cross between the Velvet Underground and the Damned. It was surprisingly good." - Joel Smith