It's been too long since we last spoke. But there was good reason! After Maxx Charvelle's departure in December 2021, we immediately found a guitarist/master laptop tracks maker extraordinaire in one HORACE GRIMSBY!
Come join us for a Dark Electro Night on Sat., Aug. 27 @ The Cantab, Cambridge, MA!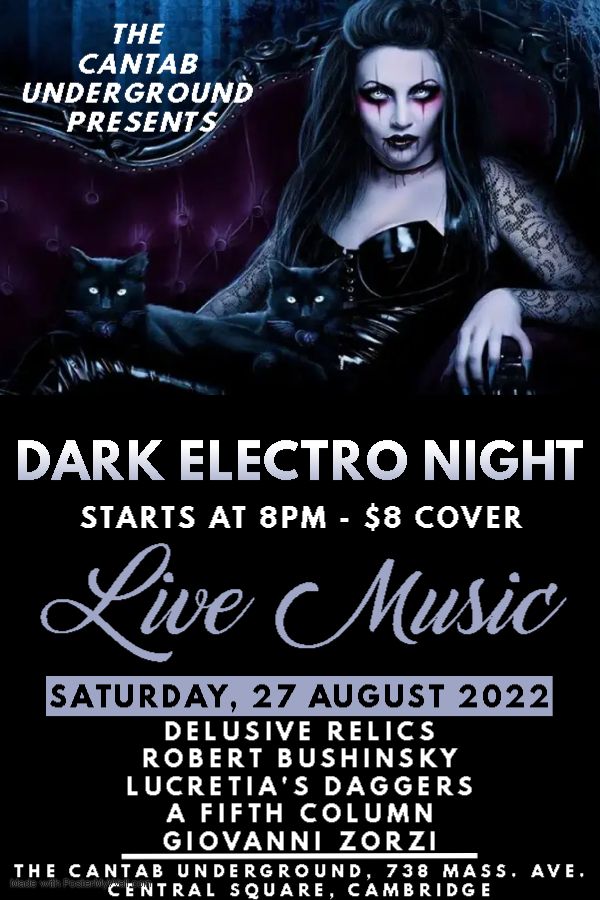 8pm: Delusive Relics - Electro Rock/ Industrial and Dark Ambient music project by Frank Nik and Anis Oveisi. 
9pm: Robert Bushinsky - a Boston-based indie/electro/alternative rock vocalist/keyboardist/songwriter who has released 4 albums to date. 
10pm: Lucretia's Daggers - Boston area mixed genre, socio-political, dark lyrical electro-rock....for the apocalypse 
11pm: A Fifth Column - Dark Wave/Techno/Ambient. 
 12am & DJing: Giovanni Zorzi - Influenced by a variety of styles that includes techno, house, electro and funk.